In June, we held our first NBF Convening with We Got Us Fund grantee partners and our Community Advisory Committee (CAC) members. Our gathering of 31 community leaders and organizers was held at the Occidental Arts and Ecology Center (OAEC) on unceded Coast Miwok and Southern Pomo land. People traveled from near and far to meet in this place. Prior to the convening, I primarily met with these folks through computer screens. After many months of diligent planning, preparation, and imagining – we finally arrived. As we all excitedly searched for ripe strawberries in the lush, fragrant gardens on the first day of the convening, I knew the next three days we'd share together would be special.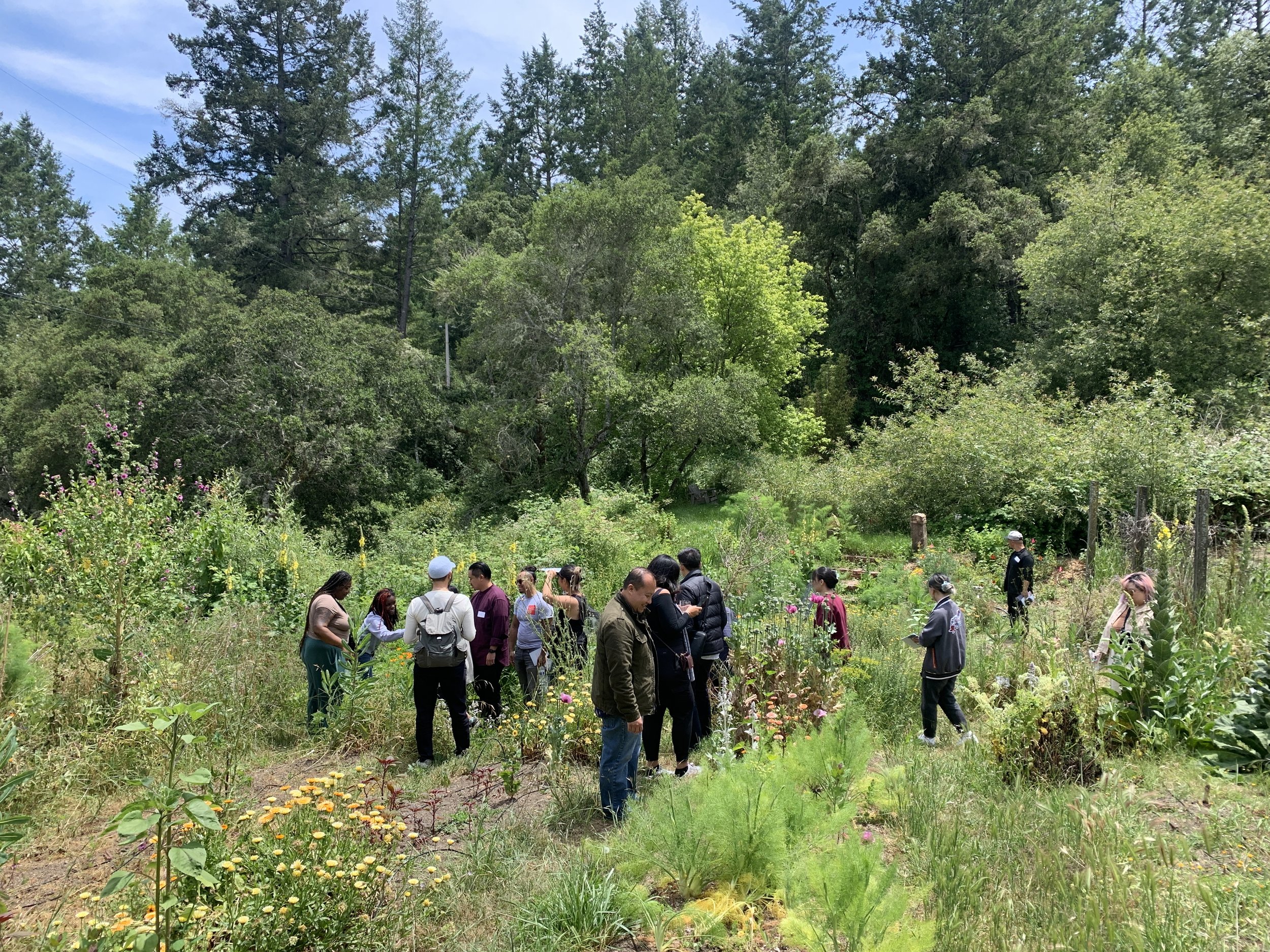 The theme of the convening was Nourishing Our Leaders, Nourishing the Movement. Our intention for this convening was to be a space for these incredible community leaders to connect, reflect, and be nourished. Everyone was invited to bring an item that represents the theme of "nourishment" to place on the community altar. As we began to meet and connect with one another, people began to share their offerings of incense, rainwater, books, candles, and more. Placing this item on the altar was a way for attendees to say, "I have arrived, I am here, my ancestors and community are here."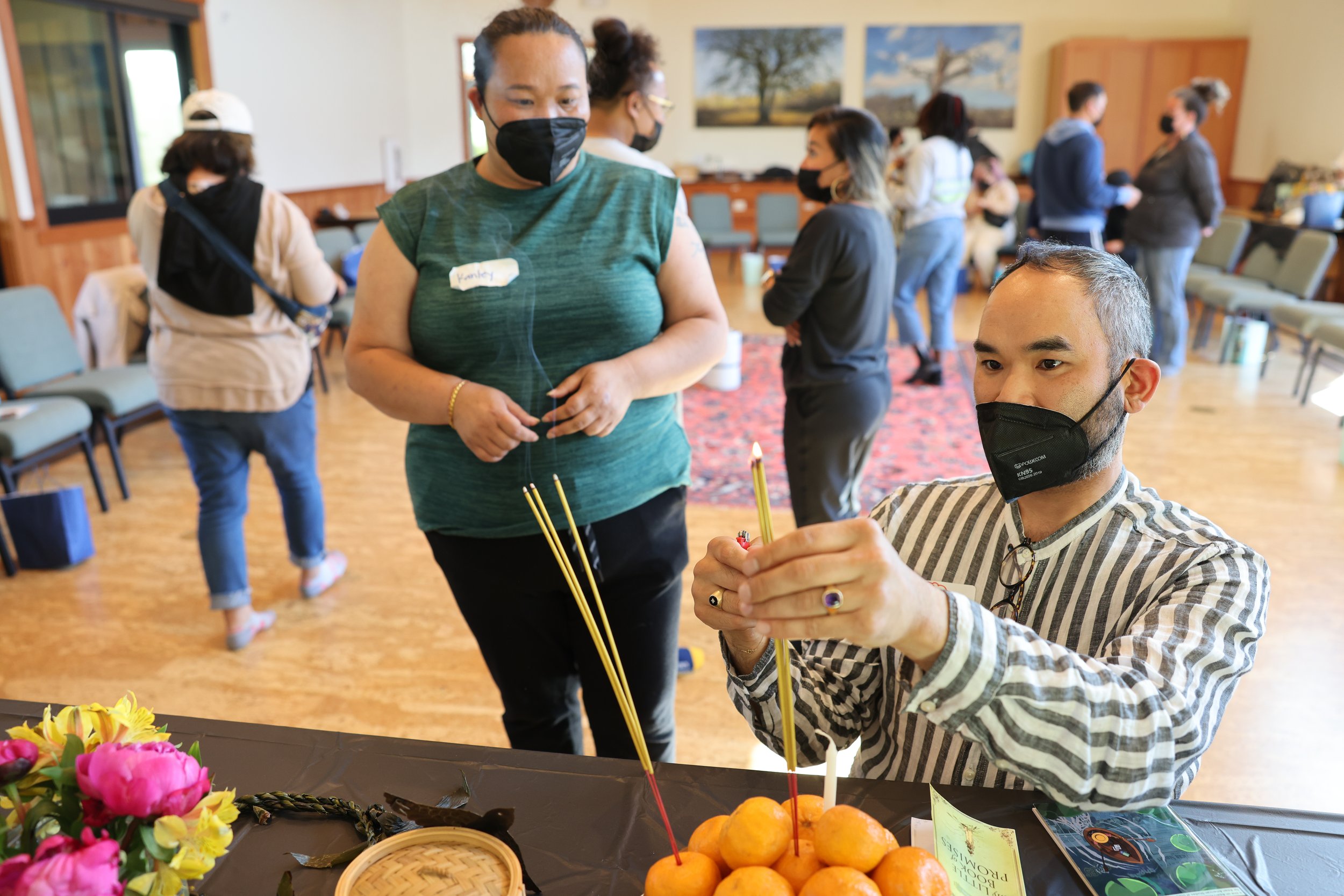 "What is one reason why you do the work that you do?"
Over the course of the convening, there were shared meals, breakout discussion sessions, reflections on trauma and healing, fun activities, and a lot of spaciousness in between. We encouraged everyone to share their answer to the question: "What is one reason why you do the work that you do?" Out of that prompting flowed many personal stories about the ways that systems of white supremacy, incarceration, detention and deportation, patriarchy, and imperialism have intersected with people's lives. There were themes of grief and loss, hopelessness, resilience, remembrance, love, and gratitude. Many shared a desire to honor the people that came before us and to plant seeds in the garden for those who will come after us. I was moved by the vulnerability with which people shared. It was a gift to learn about what motivated each person there.
I brought a small paper crane as my altar offering. On it were written the names of some of my familial and political ancestors, as well as the phrase okagesama de, which can be translated to "I am, because of you." For me, the reason why I do the work that I do is because of my family's story. I am 4th generation Nikkei (person of the Japanese diaspora). During World War II, my family lost everything, was forcefully displaced, and put into concentration camps by the U.S. government. I grew up hearing many wartime stories from my grandparents. From a young age, there was a knowing that my safety, my healing, and my liberation were never going to come from the State. Rather, these things come from my people; it comes from community. The more I learned about other communities, the more I saw that what my family experienced was not an isolated incident, but was one struggle in a sea of struggles.
Encountering one another as people
In the introduction of Contemporary Asian American Activism, Robyn Magalit Rodriguez and Diane C. Fujino write: "Organizing movements is ultimately about relationship building and the intimate connections between people that deepen in the context of activism and struggle… Relationships require encountering one another as people, developing shared experiences together, sharing knowledge with one another." The most beautiful thing about the convening wasn't the peaceful setting or discussions about the logistics of movement work; it was encountering one another as people. As we gathered in that place, we were not simply meeting as organization to organization or funder to grantee. We connected as people, each of us with complex lives, histories, and dreams.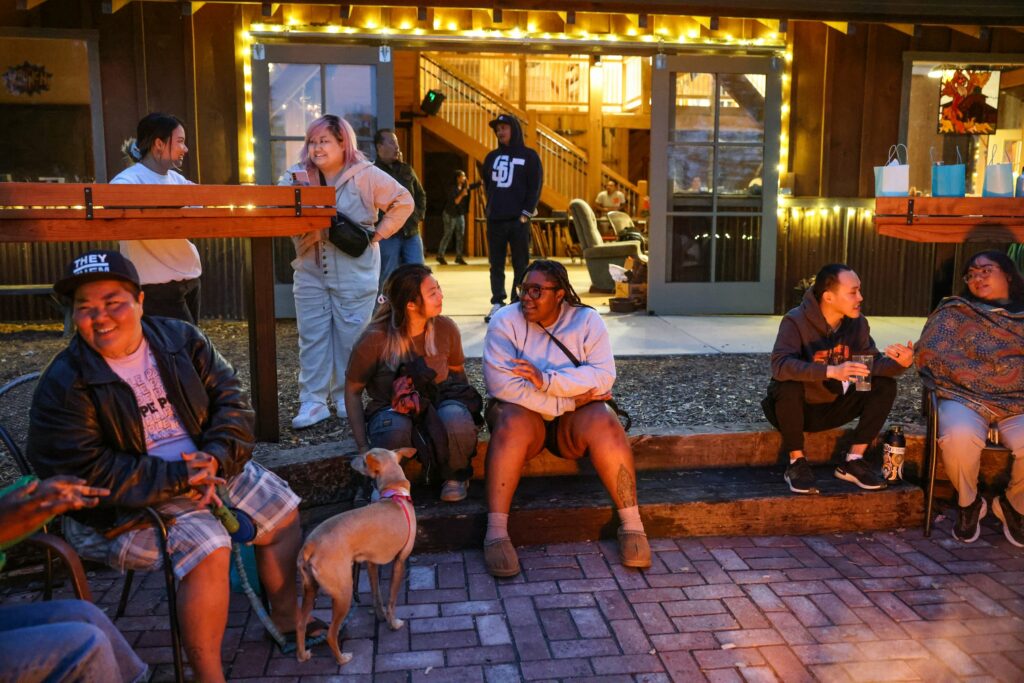 I will remember the conversation I had with Ny Nourn from Asian Prisoner Support Committee, during the session on trauma and healing, as we shared our personal stories, offered affirmations to one another, and wondered about what it looks like for us to really show up for ourselves today. I will remember the time I spent with eri oura from Lavender Phoenix, talking under the stars about the identities that we claim and what it's like to exist as people of the Japanese diaspora. The beauty was in the moments of care offered, warm smiles and inside jokes, thoughtful questions, buoyant laughter, and tight embraces with no words exchanged. The beauty was in receiving a generous gift of a gratitude chant, Oli Mahalo, offered by Jamee Miller and Kalei K-Aloha from 'Ekolu Mea Nui and Micky Huihui from Hawai'i People's Fund. The beauty was in the picking and tasting of strawberries together as an act of embodied presence, being here, now.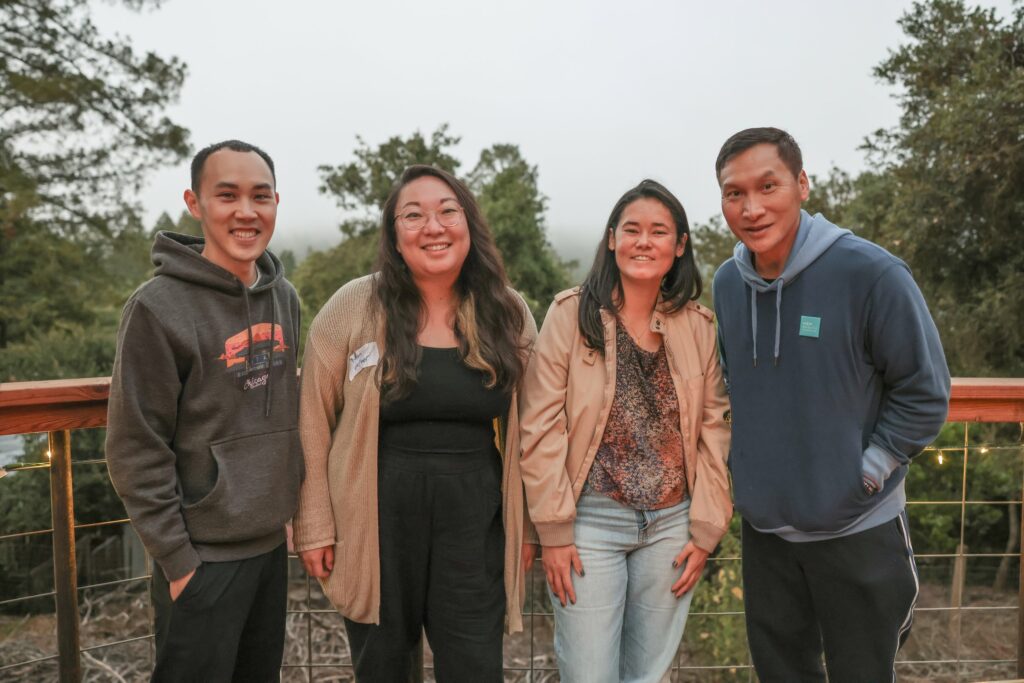 Movement work is often hard and exhausting, but it can also be life-giving and grounding. In the time we shared, I experienced our deep collective capacity to hold both pain and joy, grief and hope, in a way where neither diminishes the other, but coexists in balance. During those three days we spent connecting with one another, we were, if even in a small way, building the world we hope for. I left the convening with my heart full, feeling more firmly rooted in why I do this work and a renewed understanding of why we're not meant to do it alone. I have deep gratitude for each person that joined us in person and those who were with us in spirit. I look forward to continuing to nurture a liberated future for all of us, together.
Mari Yamagiwa is a 4th-generation Japanese American, descendant of WWII incarcerees, and lifelong Chicagoan. Mari has a background in trauma-informed mental health care and is passionate about storytelling and community healing. This framework continues to guide the way she engages in all areas of her life. She has worked in Chicago-area AAPI communities for several years specifically through her roles at the Chicago Chapter of the Japanese American Citizens League and Asian Americans Advancing Justice | Chicago. At these organizations she focused on areas of education, civil rights, and leadership development. She continues to support local efforts of solidarity and coalition building between communities of color.